More than 300 volunteers from across Indonesia learned how to safely manage the bodies of COVID-19 victims while respecting traditional religious practice in an online workshop held on 23rd and 24th of September 2020. The workshop, organized by the International Committee of the Red Cross (ICRC) together with Humanitarian Forum Indonesia (HFI) and Human Initiative (HI), helped tackle the stigma and confusion that has often accompanied the response to the pandemic.
Opening the event, ICRC Deputy Head of Delegation to Indonesia and Timor Leste, Benoit Chavaz, highlighted the ICRC's COVID-19 response in Indonesia including supporting health systems in places of increased vulnerability, such as in prisons and detention centres, as well as conducting training sessions on management of the dead. The ICRC has also supported Islamic boarding schools or Pesantrens with hygiene items and protective equipment. From HFI, M. Ali Yusuf stressed the importance of safe management of the dead for COVID-19 as cases continue to rise across Indonesia.
In the first panel, Dr. Evi Untoro from the Indonesian Forensics Association outlined safe procedures for dealing with the bodies of COVID-19 victims, stressing the importance of strict procedures for wearing and especially removing personal protective equipment (PPE) to prevent infection. She explained that in Indonesia there have been many cases of families forcibly taking bodies of their relatives from hospitals so they can perform traditional funeral rites and that by law medical workers have a duty to report those to the police.
Ustaz Wawan Gunawan Abdul Wahid from the Muhammadiyah Islamic mass movement talked about stigmatization and misunderstanding around COVID-19 in the Islamic community. "Some say that those who miss Jumu'ah (Friday) prayer three times become infidels (kafir)," Ustaz Wawan said, "this is not true at all. We pray. We hold the Friday prayer with noon prayer and we do it at home. Why? Because this is an emergency situation. We are all in the red zone [of COVID-19]. The virus is everywhere including temples, churches and mosques."
He explained that the top leadership of Muhammadiyah has issued a fatwa (religious judgement) saying that the obligation to pray in a mosque is suspended during the pandemic and people should pray at home.
Js. Liem Liliany Lontoh from the Indonesian Confucian Council reiterated the importance of observing health protocols. She explained that in the Confucian tradition, "if someone dies of COVID-19 in hospital, we pray to God by facing the open sky and taking a bow with both hands on our chest. We use incense if it's available, but it is not compulsory. We mention the full name of the patient, his date of birth, and appeal to God to receive him. There is no need to stand by the body. Within four hours, the patient must be buried." She added that during the pandemic all rituals can be suspended if health protocols require.
Ahmad Arif, the Chair of the Indonesian Journalists Group for Disaster & Crisis, said the best way to avoid stigmatization of patients is by communicating the risks of COVID-19 adequately. Ahmad argued that it is necessary not only to fight the pandemic but also the 'infodemic' of false information. He said Indonesia is one of the five countries that have the highest rate of misinformation. He argued that religious and community leaders could play a critical role in countering false information as people place their trust in them.
The second day of the workshop chaired by HFI Director Surya Rahman focused on improving coordination among stakeholders and first responders for COVID-19. Gen. Agus Andrianto said that the Indonesian police had been instructed to educate the public about funerals for COVID-19 patients so that people will not reject the rules. Those who do violate health protocols risk being penalized.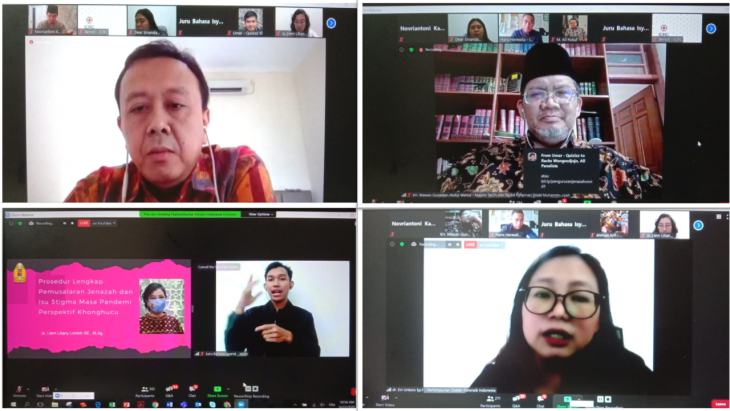 Dr Reza Ramdhoni from National Amil Zakat Agency described the challenges he and his team faced assisting the government in caring for patients in temporary hospitals in Jakarta set up in apartment blocks. "Imagine, an apartment which was not designed to be a hospital has to cope with hospital standards. The size of the lift, doors, room, stairs, floors etc. are way below the hospital standard. At one point, I was called to take care of a body on the 9th floor. Fully equipped with PPE, four of us went up there. We should know that it is a must to not manipulate the body too much to prevent any leak from the cavities because it is infectious. This is also the reason why we wrap it layer after layer. So we shrouded the body because we know he was a Muslim, then put two layers of strong plastic wrap. Once the body was secured, we put it in the body bag and sprayed it with disinfectant. Then we put it into a coffin, sealed and disinfected it again."
Istianasari, head of health division at the Indonesian Red Cross (PMI), explained the lessons learned from conducting 'Management of the Dead' (MotD) in emergency situations such as plane crashes, natural disasters and bomb explosions where the PMI focuses on assisting families to find their loved ones through the Restoring Family Links (RFL) program. During the pandemic, PMI had to develop new health protocols for its volunteers and disseminate them through webinars. Istianasari stressed the importance of building good coordination with all actors working on MotD including the Ministry of Health, referral hospitals for COVID-19, cemeteries, cremation officials, the police and military, as well as community leaders.
During the webinar participants and speakers were able to interact with all panellists through the chat feature, many asking for specific advice on how to improve their response to COVID-19.