In late August, 150 academics, military personnel, students and media and legal practioners convened at the International Islamic University Malaysia (IIUM) for a two-day conference on international humanitarian law. The gathering coincided with the commemoration of 150 years of the first Geneva Convention.
The event, on 27 and 28 August, was organized by IIUM's Ahmad Ibrahim Faculty of Laws, the Harun M. Hashim Law Centre at IIUM, and the ICRC. Sixteen speakers from the International Red Cross Red Crescent Movement and the United Nations Refugee Agency (UNHCR) were joined by professors from the IIUM, the Ministry of Education and the Malaysian Armed Forces and addressed various aspects of international humanitarian law (IHL).
In particular they explored the relevance of IHL in the local context and how it is applied in situations of armed conflict, the protection of women and medical units and the humanitarian impact of nuclear weapons. Participants at the first of two panel sessions discussed IHL's compatibility with Islamic principles, while the second centred around challenges faced by humanitarian workers in emergencies and natural disasters.
A platform to explore opportunities
Professor Dr Ainul Jaria, Director of the Harun M. Hashim Law Centre explained: "The main objectives of the conference were to create awareness and deepen the understanding of issues concerning humanitarian action and aid. We also hoped that the conference would offer all involved a platform to network, exchange ideas and explore opportunities to generate greater synergy and coordination on humanitarian issues. This was also of benefit to those in Academia seeking relevant expertise to help conduct effective training in the area of IHL."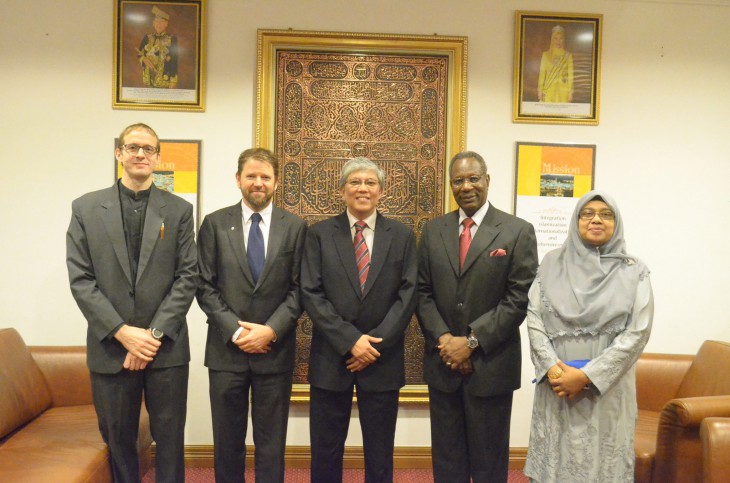 The conference also witnessed the launch of IIUM's Postgraduate Certificate in Humanitarian Affairs (CiHA) and Masters in Humanitarian Affairs (MiHA). These two programmes are the first to be offered by any institutions in Malaysia and the wider region. Their main objectives are to enhance the understanding of IHL, introduce Islamic principles in humanitarian affairs and to equip prospective students with basic knowledge and skills on disaster management. Registration for both courses is now open and the courses are set to begin in September 2015.
Noting that the conference represented one of many important interactions the ICRC has had with Islamic universities on IHL over the last 15 years or more, Kelisiana Thynne, the ICRC's regional legal advisor, said: "This conference was all the more special in that it also saw the launch of the Certificate and Masters on Humanitarian Affairs. She added: "This shows their great commitment to the promotion of humanitarian principles and law in the Islamic and non-Islamic academic, research and practical fields."
Globally, as the custodian of IHL, the ICRC has stepped up its effort to engage in constructive dialogue with Muslim scholars, academics and social leaders in seeking a commonality of humanitarian values and concerns.