At a time when humanitarian action is facing mounting challenges across the Middle East, international humanitarian law urgently needs to be better known, understood and respected. Engaging with academic and Islamic circles is a key part of the ICRC's efforts to help build an environment conducive to this respect, to limit the excesses of war and ensure that humanitarian aid reaches those most in need.
Such engagement helps to foster a better understanding of the compatibility between humanitarian law and the rules of Islamic law in armed conflict, and with Islam in general.
Just over a year after the end of the 2014 war, a major academic conference took place in Gaza to explore how two different bodies of law could help better protect the vulnerable and innocent and ensure limits to the destruction caused by conflicts. Though the ICRC has regularly organized meetings and seminars with Muslim scholars and Islamic leaders in the occupied Palestinian territory, the International Conference on IHL and Sharia Law, organized by the ICRC and the Islamic University of Gaza (IUG), was the first of its kind. While it occurred in a safe, academic space, current and past events both locally and regionally, helped audiences to consider the very real humanitarian challenges posed by modern and urban warfare.
Over two days, Sharia and legal researchers and religious scholars, many of them well-known in their fields, debated alongside IHL experts and representatives from the ICRC and other humanitarian and human rights organizations. Aside from hundreds of local experts, many participants joined via video-conference from Algeria, Sudan, Lebanon, Libya, Egypt, Iraq, Qatar, Tunisia, Saudi Arabia and Bahrain.
Maher El Sousi, the Dean of the Sharia and Law Faculty at the Islamic University of Gaza, stated that the Conference had been "a really good opportunity to convey the core principles of Islam, illustrate its moderating influence, and the ways it seeks to mitigate the impact of armed conflicts to the greatest extent possible."
Close to 50 scientific research papers were presented, on topics such as the protection of the wounded, prisoners, medics and aid workers, human dignity, cultural property and civilian objects. The conduct of hostilities and the principles of distinction, proportionality and military necessity featured prominently. Beyond highlighting the areas of synergy between these two bodies of law, the Conference discussed fundamental questions about how to improve mechanisms for ensuring that the law is respected in the contemporary world, including in places like Gaza.
"Excellent papers were presented that emphasized the key humanitarian principles aimed at protecting and assisting the victims of armed conflict," said Nemer Abu Oun, of the Ministry of Waqf and Religious Affairs, a preacher and a conference panellist. "This conference highlighted the essence of these rights and illustrated how religious principles concur with IHL in upholding them. It was a fruitful conference and I hope more such events will take place in the future."
Several thousand law and Sharia students also took part, alongside representatives from political institutions, traditional leaders and civil society members from throughout the Gaza Strip, adding a real richness to the discussions.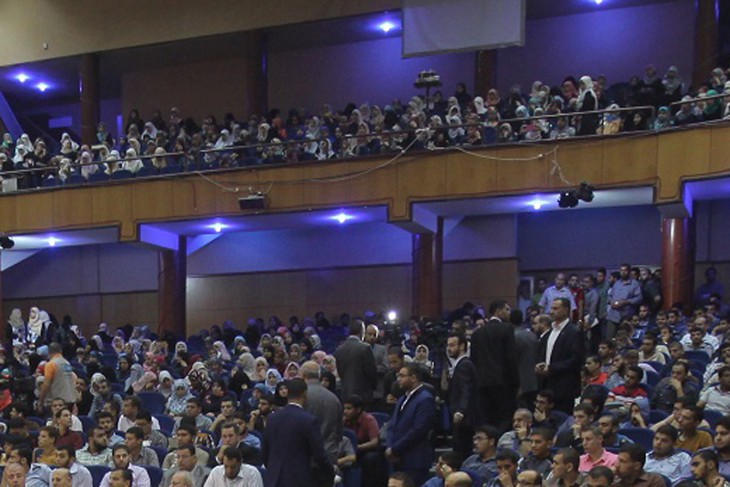 "I am particularly pleased about how many young people attended the Conference, including many women," said Ronald Ofteringer, the Islamic Affairs Adviser for the ICRC. "They demonstrated a real interest in the topics, and in how IHL and Sharia law can help prevent or alleviate humanitarian suffering during conflict. Muslim scholars and religious leaders play a leading social and spiritual role in their societies when it comes to reducing the devastating impact of violence. We will continue to pursue our engagement with students, academics and religious circles, here in Gaza and beyond, to help achieve this goal."
A key outcome of the conference was a set of findings and recommendations developed by the Conference's Scientific Committee, led by the IUG (the ICRC is not part of this Committee). These will be published in a forthcoming thematic report on the Conference. Participants agreed that further research in this area is crucial to help avert or alleviate human suffering during war.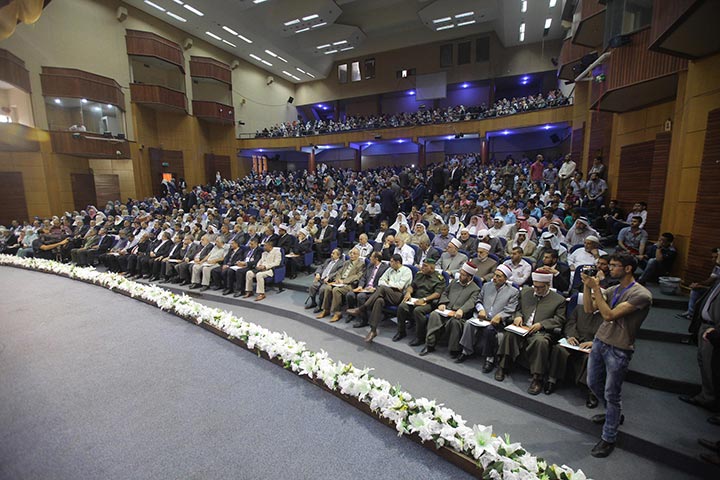 At the end of the two-day conference, Alaa, a female student at the Faculty of Religion in the Islamic University enthused: "I was keen to attend the conference because I believe this is a very important subject. It is the first time that I have attended such an event and I was amazed to see so many participants from different countries debating this range of topics. I am excited to learn and research these more."