What is climate journalism and why do we need it?
Climate change is a humanitarian emergency. It affects us all and therefore requires committed and collective action to help mitigate its impact. Home to 60 per cent of the world's population, the Asia-Pacific is also the most disaster-prone region in the world. Many countries in the region are already experiencing the stark realities of climate change, with some more prone to its impact than others, such as areas facing large-scale humanitarian crises including conflict. And yet climate change is rarely a priority for most.
To address the issue and push climate journalism to the top of the news agenda, the Wee Kim Wee School of Communication and Information (WKWSCI), Nanyang Technological University (NTU) and the International Committee of the Red Cross (ICRC) are jointly organising an expert panel discussion and media round table on 22 April in Singapore.
To be held on Earth Day, the two-part event will bring together journalists, climate change experts, humanitarian organizations, academics and policymakers to discuss the humanitarian consequences of climate change on conflict-torn societies and the urgent need for increased media coverage and reporting on the subject.
"It's clear that the crisis caused by climate change can only be dealt with through collaboration between countries, between people and between groups . Journalists and climate change specialists need to work together to get clear messages out to the public about the urgency of the issue and to drive the discussion on the way forward ," said Professor May Lwin, chair of the Wee Kim Wee School.
Media is the crucial link between the experts with a vision for change and the public who must support and enact the changes needed.
"We hope this significant event can lead to concrete actions limiting climate change that often severely and disproportionately impacts communities living in areas affected by conflict, who are also unfortunately the most neglected by climate action," said Biljana Milosevic, head of the ICRC's regional delegation in Kuala Lumpur. Ms Milosevic also highlighted that the ICRC helps in building the capacity of communities to adapt to the combined impact of conflict and climate shocks.
While the panel discussion, to be held in the morning, will be a virtual and public event to facilitate the participation of experts from different parts of the world, the media round table will be a physical event for Singapore-based journalists.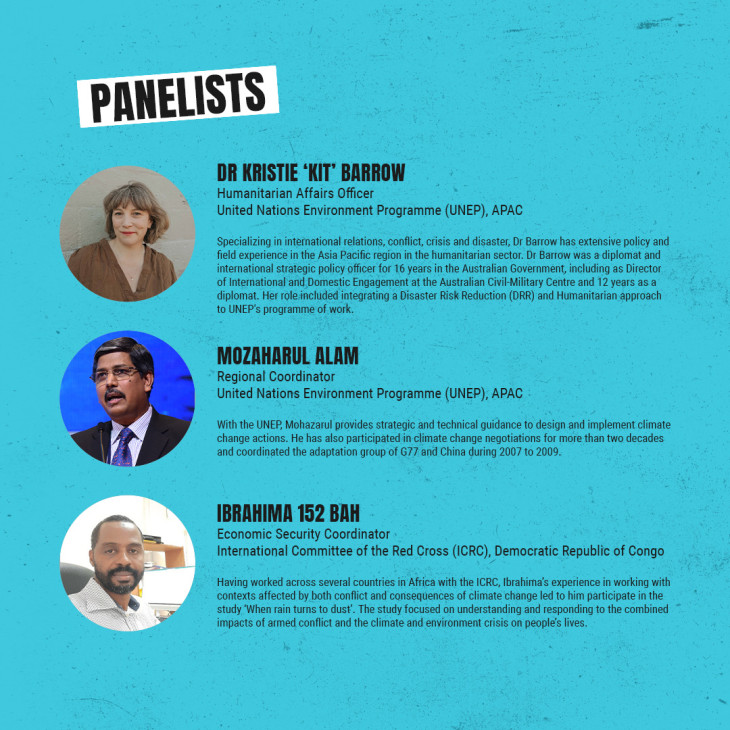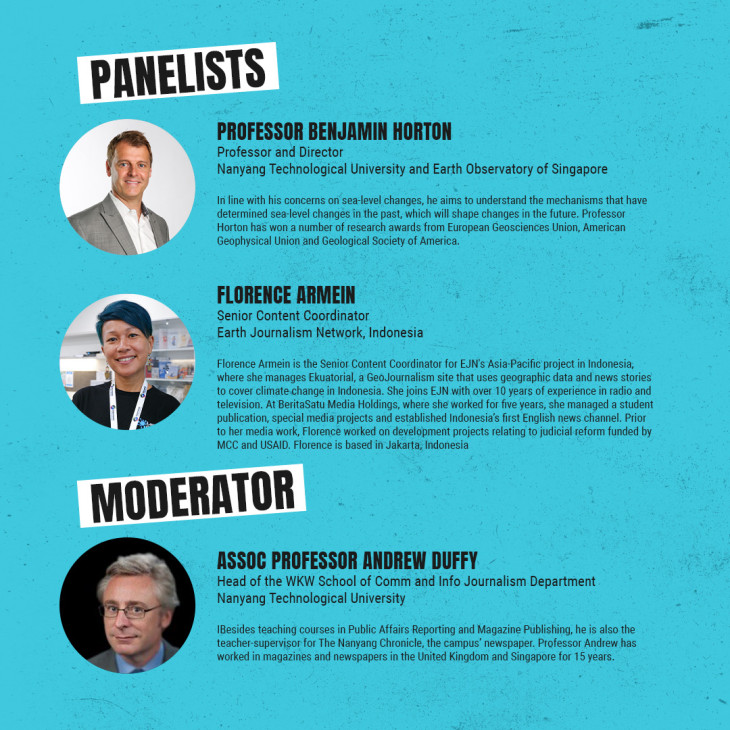 The panel discussion session will be held virtually via Zoom at 9.30am on 22 April 2022. Interested participants are encouraged to RSVP here and to receive a Zoom link to the session.